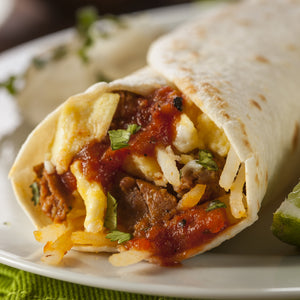 EQUIPMENT: 13-inch French Skillet, Food Cutter
PREPARATION TIME: 30 minutes – makes 6 servings.
INGREDIENTS:
1-pound Italian Sausage (Johnsonville or Jimmy Dean's Hot or Mild)
1 tablespoon chili powder
½ teaspoon cumin
1½ teaspoons paprika
2 tablespoons milk
6 whole eggs, beaten.
12 tortillas 8- or 10-inch size
½ cup sharp cheddar cheese, julienne #3 cutting cone
½ small onion, chopped #2 cutting cone
2 tablespoons fresh Cilantro, chopped.
1 cup Salsa (scroll down for the recipe)
DIRECTIONS:
Preheat the 13-inch French Skillet over medium heat at 275°F, remove the sausage from its casing, and sauté with chili powder, cumin, and paprika until cooked through and slightly browned.
While the sausage is cooking, combine the milk and eggs in the large mixing bowl and whisk together. Add the eggs to the 13-inch French Skillet, reduce the heat to medium 275ᵒF, and scramble with the sausage mixture. Cook thoroughly and remove from heat.
To serve, place 2 heaping tablespoons of egg and sausage mixture in individual tortilla shells, top with shredded cheese, chopped onion, and cilantro, and roll "burrito". Add salsa to taste and serve immediately.
SALSA recipe
Yields: 2½ cups
Preparation Time: 10 minutes
Equipment: Food Cutter, Mixing Bowl
4 Roma or plum tomatoes
¼ cup fresh cilantro, chopped
1 medium white onion, peeled and chopped #2 blade
1 lime, juice of
Salt & pepper to taste (optional)
In the 2-quart mixing bowl, combine ingredients, serve at room temperature.