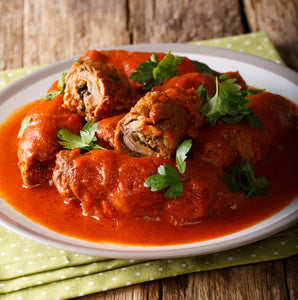 If you are a fan of Italian cuisine, you will love braciole - a traditional dish made with thinly sliced beef, filled with savory stuffing, rolled up, and simmered in a rich tomato sauce. While it might seem intimidating to make, our easy recipe will guide you through the process step-by-step.
To start, you will need to prepare the stuffing. Spread the mixture evenly over the sliced beef, prosciutto, provolone, and sprinkle with breadcrumbs then roll it up tightly and secure it with toothpicks or kitchen twine.
Next, brown the braciole in a large skillet with a small amount of olive oil. Once browned on all sides. Deglaze the skillet with wine and add the tomato sauce. Lower the heat and simmer covered until cooked through and the sauce thickens.
Serve the braciole hot, with a side of pasta or crusty bread to soak up the delicious sauce. With our easy recipe, you will be able to impress your friends and family with your Italian cooking skills!
Braciole in Northern and Southern Italy are two quite different things. In Northern Italy, Braciole is prepared with thinly slice veal or pork. in Southern Italy, it is made in the involtini style, small bundles of food with an outer layer wrapped around the filling. In Sicily, Calabria, and Naples braciole is made with sliced pork and beef with a filling of cheese and breadcrumbs then tied with a string and braised in tomato sauce. 
Aunt Florence Sica's Braciole
EQUIPMENT: 13-inch French skillet, Rotary Mandolin Food Cutter
INGREDIENTS:
8 thinly sliced NY Strip about 10-inches long
¼ cup toasted Pinole pine nuts
½ cup arugula or fresh basil
½ cup fresh parsley
7 roasted garlic cloves
1 cup grated Parmesan cheese.
1 tablespoon olive oil
1 cup dried Italian-style breadcrumbs
8 prosciuttos sliced thin.
8 provolone sliced thin.
16 green Italian olives sliced (optional)
2 tablespoons butter
1 cup dry white wine
4 cups tomato sauce
PREPARE THE FILLING
Prepare the pesto stuffing by combining the pine nuts, arugula, and parsley, in a food processor and pulse until coarsely chopped. To the food processor add the roasted garlic, ½ cup of grated cheese, and olive oil. Process until completely incorporated.
PREPARE THE BEEF
Lay the steak strips out on stainless steel baking tray. Add a layer of prosciutto, a sprinkle of breadcrumbs, and a slice of provolone cheese. Spread a layer of the pesto mixture evenly and roll tight. Using toothpicks to hold the braciole together while browning and simmering.
COOKING
Brown the braciole in butter over medium heat at 275°F on all sides for about 7 or 8 minutes per side. Deglaze the skillet with wine and add the tomato sauce and olives (if using). Reduce the heat to low 200ᵒF cover the skillet and open the vent and simmer for about 20 minutes.
SERVING:
Remove to a serving platter and pour the sauce over the broccoli and top with grated cheese.