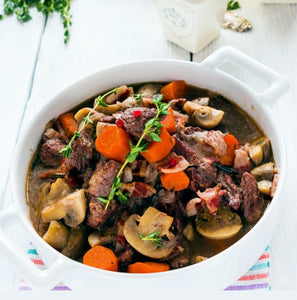 Beef Bourguignon or Beef Burgundy is a classic French dish from the Burgundy region in east-central France famous for their wine culture. Braised in a Burgandy wine and beef stock, flavored with carrots, onions, garlic, and a bouquet garni, Boeuf Bourguignon is finished with pearl onions, mushrooms, sautéed in bacon and butter.
According to food historians Boeuf Bourguignon was first served in Paris in Baedeker's restaurant in 1878, and the dish appeared in print in Butler's La Bonne Cuisine pour Tous in 1885. Last but not least, Boeuf Bourguignon was memorialized by iconic master chef and father of modern French cuisine, Auguste Escoffier, appearing first in his 1903 classic Le Guide Culinaire.
Boeuf Bourguignon – Beef Burgandy
PREPARATION: 2 ½ hours – makes 8 servings
EQUIPMENT: French chef knife, Cutting Board, 6-quart Stockpot, Medium Skillet
INGREDIENTS:
2 pounds sirloin steak cut in ¼-inch cubes.
3 shallots peeled and chopped.
3 cloves garlic, chopped.
4 tablespoons flour
3 cups Burgandy wine
2 cups (480 ml) beef stock, heated (or homemade beef stock to reduce sodium)
2 tablespoons unsalted butter
2 strips thick bacon diced.
24 pearl onions, peeled.
1-pound fresh mushrooms, cleaned and halved
Bouquet garni a bundle of herbs tied together with string and/or placed in cheesecloth and added to soups, socks and stews and cooked with the dish. Includes fresh thyme and parsley and dried bay leaf.
DIRECTIONS
Preheat 6-quart Stockpot over medium heat 275ᵒF. Add sirloin and sear on all sides. Add shallots and garlic, sauté for about 5 minutes. Sprinkle flour over meat a tablespoon at a time, stirring to combine ingredients, sauté 4-5 minutes.
Add wine to deglaze and bring to a simmer over medium 275ᵒF. Cook uncovered until liquid is reduced by about two-thirds. Add beef stock, and Bouquet Garni. Cover with the vent open, reduce heat to low 200ᵒF and simmer for 2 hours.
About 30 minutes before serving, heat butter in Skillet over medium heat 275ᵒF. Render bacon in butter, about 5 minutes. Add pearl onions and mushrooms, sauté for about 5 minutes, and then add to stew.
Serve with toasted French bread and an excellent Burgandy wine.
NUTRITIONAL BREAKDOWN PER SERVING: Calories 345; Fat Grams 6; Carbohydrate Grams 14; Protein Grams 50; Cholesterol mg 50; Sodium mg 847.
THE POINT SYSTEM: Calorie Points 4 ½; Protein Points 6; Fat Grams 6; Sodium Points 37 (22 with homemade beef stock); Fiber Points 1; Carbohydrate Points 1; Cholesterol Points 5.