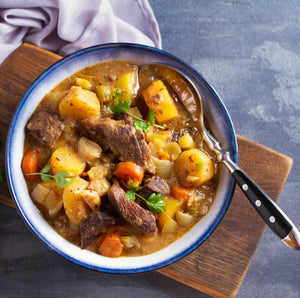 The Blarney Stone is a block of stone built into the Blarney Castle, Blarney, Cork, Ireland. According to legend, kissing the stone endows the kisser with the Gift of Gab of great eloquence. The stone, a popular tourist attraction, was set into a tower of the castle in 1446. The word "Blarney" is to be clever, and flattering.
Blarney Stone Stew or Soup is served in many of the restaurants around the Castle and is a tourist favorite. Enjoy!
PREPARATION: 1 ½ hours – makes 10 to 12 servings
EQUIPMENT: French chef knife, cutting board, kitchen machine food cutter, 5-quart Soup Pot.
INGREDIENTS.
2 pounds of beef stew meat, trimmed of fat, and cut into 1-inch cubes.
2 cups red wine, Merlot, or Cabernet Sauvignon
2 cloves garlic, minced.
½ teaspoon fresh rosemary, finely minced (or dried, crushed)
½ teaspoon fresh thyme, finely minced (or dried, crushed)
2 teaspoons orange zest, grated Kitchen Machine cutting cone #1
¼ teaspoon pepper
½ cup purified or filtered water
12 carrot slices, sliced on Kitchen Machine cutting cone #4
6 pearl onions peeled and halved.
6 new or red potatoes, quartered.
1 cup mushrooms, slice on Kitchen Machine cutting cone #4 (lay sideways in hopper to slice)
1 small head red cabbage, shredded on Kitchen Machine cutting cone #5
1 green pepper, chopped.
2 cups stewed tomatoes, canned.
2 tablespoons cornstarch
2 tablespoons cold filtered or purified water
DIRECTIONS:
Preheat a 5-quart Soup Pot over medium-high heat 375ᵒF for 3-4 minutes. Sprinkle a few drops of water in the pan. When the water droplets dance, the pan is ready. If the water evaporates, the pan is not hot enough. Place the stew beef in the hot, dry skillet. Cover the pan, open the vent, and dry sauté until stew beef releases easily from the pan, 4 to 5 minutes. Turn the stew beef, cover the pan, and brown on other side until beef release easily from the skillet, 4 to 5 minutes. Repeat the process until beef is browned on all sides.
Deglaze Soup Pot with wine; add garlic, rosemary, thyme, orange zest, pepper, ½ cup water and bring to a simmer, reduce the heat to low 200 to 210ᵒF, cover with the vent open and simmer 15 to 20 minutes.
Add carrots, onions, potatoes, mushrooms, and stewed tomatoes, cover, and continue to cook 35 to 40 minutes or until meat and vegetables are tender.
Combine cornstarch with 2 tablespoons of water, mix well, and add to stew. Mix well. Cook until liquid thickens. About 10 to 15 minutes.
To Serve: Ladle stew into individual serving bowl, top with snipped parsley, and serve with Irish Soda bread.
NUTRITIONAL BREAKDOWN PER SERVING: Calories 252; Fat Grams 4; Carbohydrate Grams 26; Protein Grams 22; Cholesterol mg 47; Sodium mg 176.
THE POINT SYSTEM: Calorie Points 3 ½; Protein Points 3; Fat Grams 4; Sodium Points 8; Fiber Points 2; Carbohydrate Points 1½; Cholesterol Points 5.