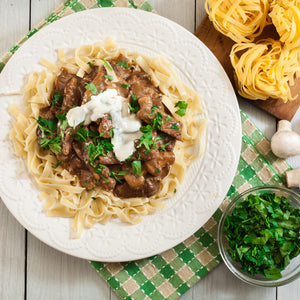 Beef Stroganoff - Healthy Cooking with Bill Clinton (Tim Waters), Jack Harris & Charles Knight (see video below)
Beef Stroganoff is named after one of the members of the influential Stroganov family. The creation, attributed to French chefs working for family is a refined version of older Russian recipes.
Beginning in the 15th century through to the 19th century the Stroganov family were a successful Russian family of merchants, industrialists, landowners, and statesmen.
After the fall of Tsarist Russia, the recipe was popularly served in the hotels and restaurants before the start of WWII. Russian and Chinese immigrants, as well as US servicemen stationed in, brought several variants of the dish to the United States, which may account for its popularity during the 1950s. It came to Hong Kong in the late fifties, with Russian restaurants and hotels serving the dish with rice but not sour cream.
In 1960s United States, several manufacturers introduced dehydrated beef stroganoff mixes, which were mixed with cooked beef and sour cream. It was also available freeze-dried for campers.
BEEF STROGANOFF
Equipment: cutting board, Chef's knife, Rotary Food Cutter, large conventional skillet, or electric skillet
Serves 4
Ingredients:
1 1/2 pounds lean beef flank steak (tenderized and cut into thin strips)
1 onion thinly sliced or julienne, #2 cutting cone.
2 garlic cloves minced fine.
¼ cup Chardonnay wine
¾ cup beef broth
2 tablespoons low sodium soy sauce or Dale's seasoning (optional as it is salty)
8 ounces mushroom sliced #4 cutting cone.
2 ounces pimentos, diced.
1 cup sour cream or plain yogurt
2 tablespoons buttermilk or unsalted butter
Dash of paprika
1 tablespoon Crystal Hot Sauce or Tabasco
Pepper to taste
Cooked egg noodles
¼ cup parsley, chopped
Preparation:
Preheat the skillet over medium-high heat. Dry sauté beef strips until browned. Add onions and garlic and continue to sauté until caramelized. Note: Dry sautéing leaves a fond on the pan that can be turned into wonderful flavoring.
Deglaze the pan with wine. Wine the alcohol burns off, add the beef broth (soy sauce optional), and reduce the heat to medium. Add mushrooms and pimentos. Cook 10 to 15 minutes, stir.
Reduce the heat to low, add sour cream, buttermilk or butter, paprika and hot pepper sauce.
Serve over egg noodles and top with parsley.