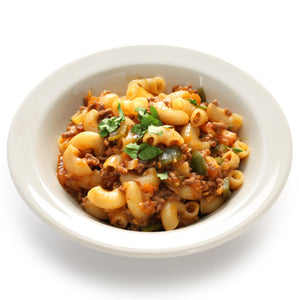 PREPARATIONS: 1 hour – Makes 6 servings
EQUIPMENT: Chef knife, Cutting Board, Kitchen Machine food cutter, 3-quart Casserole Karahi Pan or Large Sauté Skillet
INGREDIENTS:
1 green pepper chopped fine.
1 onion peeled and chopped #2 cutting cone.
1 cup celery chopped #2 cutting cone.
½ cup mushrooms (optional), sliced #4 blade
½ pound lean ground beef
¼ teaspoon Worcestershire sauce
1½ cups tomato juice or V8
1 cup macaroni, uncooked
½ cup mushrooms, sliced #4 blade
DIRECTIONS:
Preheat skillet over medium heat 275ᵒF for 3-4 minutes. Sprinkle a few drops of water in the pan. When the water droplets dance, the pan is ready. If the water evaporates, the pan is not hot enough. To the skillet add the peppers, onion, and celery. Dry sauté for 3 to 5 minutes until lightly browned, stir occasionally.
Stir in the mushrooms and add the ground beef. Break up the ground beef with a spoon. Cover the skillet, open the vent, and cook for about 10 minutes stir occasionally.
Stire in the Worcestershire sauce, tomato juice and macaroni. Top with
Drain excess grease from skillet, and add green pepper, onions, and celery. Reduce the heat and cover with vent open and cook for 10 minutes.
Add remaining ingredients, reduce the heat to low, cover with the vent closed, and simmer 40-45 minutes.
Serve with rice.
To Serve: Spoon into individual bowls and serve with French or Italian bread.
NUTRITIONAL BREAKDOWN PER SERVING: Calories 139; Fat Grams 5; Carbohydrate Grams 15; Protein Grams 9; Cholesterol mg 23; Sodium mg 238.