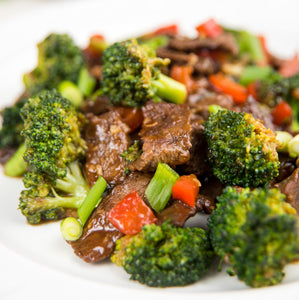 PREPARATION TIME: 20 minutes – Serves four
EQUIPMENT: Butcher knife, Cutting Board, Kitchen Machine food cutter, 3-quart Saucepan, 13-French gourmet skillet, 1.5-quart Mixing Bowl
DIRECTIONS:
1-pound lean beef round steak
½ cup fresh green beans, trimmed and sliced
½ cup carrots, sliced #4 blade
½ cup turnips, sliced #4 blade
1 cup of broccoli sliced.
1 cup Chinese cabbage shredded #5 blade.
½ teaspoon fresh ginger, grated #1 blade
½ teaspoon garlic powder
1 tablespoon low sodium soy sauce
½ cup filtered or purified water
4 green onions, chopped.
With a Butcher knife, trim fat from beef, and slice across the grain into ¼-inch strips.
Place all the vegetables in the 3-quart Saucepan, rinse with cold purified or filtered water, and pour the water off. The water that clings to the vegetables is sufficient for cooking the waterless way. Cook over medium heat 275ᵒF with the vent open. When steam escapes and the whistle sounds close the vent and reduce the heat to low 200ᵒF. With the vent closed a vapor seal will form around the rim.
In a mixing bowl, combine cornstarch, ginger, garlic powder, soy sauce, and water, mix well, and set aside.
When vegetables are almost done, preheat the 13-inch gourmet skillet over medium-high heat to 375ᵒF. When hot, add beef and stir-fry for about 3-5 minutes. Add cornstarch mixture, simmer, and cook until the mixture thickens.
To Serve: Place vegetables on individual serving plates, spoon over beef mixture, and top with green onions.