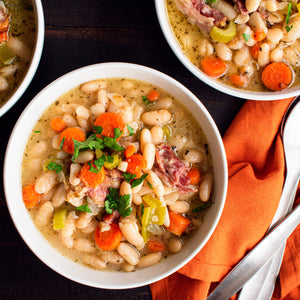 BEAN with BACON SOUP
One of the most admired skills in any cook's repertoire is the ability to create wholesome, great tasting soups, stews, and sauces. Cooks with these admirable attributes frequently utilize soups and stews as highly versatile comfort foods, and with good reason. It sets the pallet for the meal to come.
Taste the Soup! When trying out a new restaurant I will order the soup of the day before ordering an entrée. If the chef cannot master an excellent soup forget about the rest of the menu.
Bacon drippings in moderation along with unsalted butter can add incomparable flavor, and with a smoke point of 350 to 400ᵒF it is perfect for browning, pan broiling and frying. A teaspoon of bacon grease or butter has about calories and zero carbs.
PREPARATION: 1 hour – serves 10 to 12.
EQUIPMENT cutting board, French chef knife, 6- or 8-quart heavy stockpot, measuring spoons.
INGREDIENTS:
5 to 7 strips thick bacon diced.
2 tablespoons unsalted butter
2 or 3 sprigs fresh rosemary
2 or 3 sprigs fresh thyme
1 carrot diced.
1 onion diced.
1 stalk celery diced.
4 or 5 cloves garlic minced.
1 6-ounce can tomato paste.
1 cup chardonnay wine
4 cups 32-ounces chicken stock or broth
12 ounces country ham (pieces for seasoning) diced.
2 Bay leaves
DIRECTIONS:
You can use homemade beans if you like. Normally I do but in a pinch canned beans are quick and easy drained and rinsed or in their liquid. Rinsing should be with filtered or purified water. Never use chlorinated tap water for cooking, especially vegetables, pasta, and beans.
3 cans 15.5 ounces Great Northern white beans with juice
3 cans 15.5 ounces Great Northern white beans drained and rinsed.
This is where the fun begins. Add herbs and spices individually in small quantities at a time, stirring and tasting, adjusting the flavor.
1 teaspoon dry mustard
1 teaspoons onion powder
1 packet Sazon seasoning by Goya (2 if you like a more smokey flavor)
1 teaspoon Badia Complete Seasoning (optional)
DIRECTIONS
In the stockpot over medium high heat 375ᵒF sauté bacon with sprigs of fresh Rosemarie and Thyme with unsalted butter until crisp about 5 to 7 minutes. Stir occasionally. A nice golden brown fond will form on the inside bottom of the pan. Be sure not to let it burn, just brown. NOTE: remove the sprig stems.
To the stockpot add carrots, celery, onions, and garlic. Sauté for about 12 to 15 minutes until vegetables are slightly browned (caramelized). Stir occasionally. This will be added to the fond on the bottom of the pan. Do not allow it to burn.
Add the tomato paste to the stockpot and reduce the heat to medium 275ᵒF. Continue to cook, stirring occasionally, until the paste caramelizes turning reddish-brown in color. About 8 to10 minutes. 
Deglaze the stockpot with chardonnay wine. The caramelized fond on the inside bottom of the stockpot from the bacon, butter, herbs, and vegetables will now become the flavorful base of your soup. Continue to cook until the alcohol burns off and you have a thick rich paste. Stir occasionally.
Add the chicken stock, country ham, Bay leaves, and the beans and stir to combine. Then add herbs and spices one at a time tasting as you adjust the flavor.
SALT: Regardless of what you see on TV cooking shows NEVER add SALT. The consumer should add salt if they desire, not the cook. Besides there is sodium in many of the ingredients used in recipes.
What is Sazon Seasoning?
Sazón, also known as annatto seed powder, comes from the pulp surrounding the seeds of the Bixa Orellana tree native to Central America and the Caribbean.
In the U.S., Goya's sazón is available in bodegas, delis, and supermarkets across the country. Goya's collection of sazón is seasoned with saffron, cilantro and tomato, garlic and onion, coriander and annatto and blends without annatto, salt, or reduced sodium.