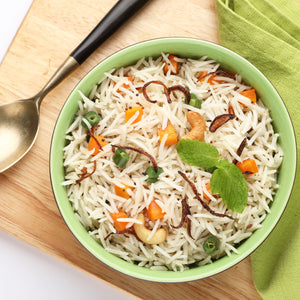 PREPARATION Time: 1 hour 15 minutes – makes 6 servings.
EQUIPMENT: French chef knife, Cutting Board, Kitchen Machine food cutter, 6-quart Stockpot
INGREDIENTS:
1 cup basmati rice
2 cups (480 ml) water
½ teaspoon salt
2 tablespoons olive oil
3 tablespoons butter
1 small onion, sliced.
2 teaspoons garam masala (see recipe at Soups & Stocks)
2 cups (480 ml) water
½ cup golden raisins
½ cup frozen peas
¼ cup blanched almond
DIRECTIONS:
Rinse basmati rice then soak for 1 hour in 2 cups of water with salt added. Drain rice (which is now very brittle) be careful not to break it.
While rice is soaking, heat oil and butter in 6-quart (6L) Stockpot over medium heat. Add onions and light golden brown. Add raisins and sauté for 5 minutes. Remove raisins and a few onions for garnish.
In a 1-quart Saucepan, bring 2 cups of water to a boil and stir in garam masala (blend of spices). After removing raisins from onion, butter mixture, add boiling spice mixture to 6-quart Stockpot, add rice, but do not stir. Bring to a boil for 7-10 minutes, reduce to low, sprinkle in peas, cover (close vent) and cook an additional 5 minutes.
To Serve: Lift rice mixture out of pan with a large serving spoon to platter, garnish with reserved onions and raisins, top with blanched almonds.