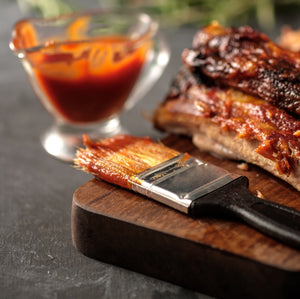 References to Barbecue Sauce began to circulate in the early 1700s throughout the southern American colonies. The writings, attributed to seventeenth-century missionary Jean-Baptiste Labat chronicled his culinary experiences as he eats his way around the island of Martinique in the French West Indies. His focus is "buccaneer barbecues" and the methods of tenderizing and seasoning meats with various "barbecue sauces."
According to his writings, barbecue sauces included lime juice, vinegar, salt, peppers, and occasionally sugar. By the early 1900s, ketchup and Worcestershire sauce were added, and after World War II the amount of sugar increased and other ingredients like yellow mustard were added and even mayonnaise. 
This recipe is the more traditional Barbecue Sauce of today.
EQUIPMENT: French chef's knife, measuring cup and spoons and 2-quart covered saucepan
PREPARATION TIME: 30 minutes – Makes about 2 cups.
INGREDIENTS:
2 strips bacon, diced.
1 medium sweet onion, minced fine.
2 cloves garlic, crushed and minced fine.
2 tablespoons tomato paste
2 cups strong coffee
½ cup Bragg's apple cider vinegar
1 tablespoons Worcestershire sauce
1 ½ cups packed light brown sugar
¼ teaspoon crushed red pepper
¼ teaspoon Dijon mustard
¼ teaspoon ground cinnamon (optional)
DIRECTIONS:
In a hot, dry saucepan over medium heat 275°F, sauté bacon, onions, and garlic until slightly browned, 5 to 7 minutes, stirring occasionally.
Add the tomato paste to the saucepan and cook, stirring until the paste turns reddish-brown in color, 4 to 5 minutes. Do not allow the residue that forms on the bottom of the pan to burn.
Slowly stir in the coffee. Add the remaining ingredients and mix well. Reduce the heat to low 200ᵒF. Cover the pan, open the vent and simmer, 20 to 25 minutes.
Serve with any recipe that calls for barbecue sauce.
PER TABLESPOON: 31 Calories, 0g Fat (0.8% calories from fat), 0.2g Protein, 8g Carbohydrates, 0mg Cholesterol, 16mg Sodium.
VARIATION – for a smoky flavor, add 1 teaspoon of liquid smoke, which adds 17mg Sodium.
Health Note: Clean and rinse vegetables with purified or filtered water. Do not use chlorinated tap water chlorine will kill the enzymes and alter the flavor of the soup.