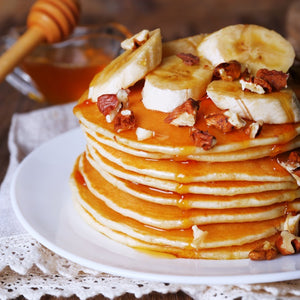 EQUIPMENT: Electric Food Processor; 11-inch Square Griddle, or 13-inch Round Griddle
PREPARATION TIME: 15 minutes – Makes 10-12 pancakes about 3 inches each.
INGREDIENTS:
2

cups

 

all-purpose flour

¼ cup

brown sugar

4

teaspoons

 

baking powder

¼ teaspoon

baking soda

½ cup chopped walnuts divided

1¾ cupsmilk

1 teaspoon vanilla extract

2 bananas (1 for the batter, 1 sliced for topping

2 whole eggs

Unsalted butter
DIRECTIONS:
In the food processor pulse together the flour, brown sugar, baking powder, baking soda, and half the walnuts.
To the dry ingredients add the milk, vanilla extract, 1 banana, and 2 eggs. Mix together on low speed.
Place the batter, in 3-inch rounds, in a hot, buttered griddle over medium heat at 275°F and cook until bubbles appear across the top of the pancakes, and they are cooked through. Flip, with a flexible (pancake) turner and brown slightly on the other side.
To serve, top sliced bananas, chopped walnuts, honey or maple syrup, or any number of other toppings.