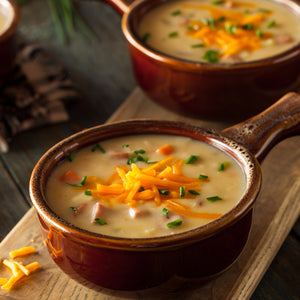 Beer Soup dates back to Medieval Europe. Served for breakfast, old recipes are as simple as beer that has been boiled and thickened with stale bread and egg yolks. Sounds like beer bread pudding. Over time, onion, celery, spices and herbs added to flavor and beer cheese soup was invented.
EQUIPMENT: 5-quart Soup Pot 
PREPARATION: 45 minutes – Makes 4 Servings
INGREDIENTS
½ pound bacon cooked crispy and crumbled
1 stalk celery diced.
1 carrot diced.
1 medium onion diced.
3 gloves garlic minced fine.
2 tablespoons unsalted butter
1/3 cup all-purpose flour
2 cups half-N-half
1 bottle beer (12 oz.)
6 oz. Velveeta cheese, cut into small cubes.
6 oz. Cheddar, cut into small cubes.
Hot Pepper sauce optional
1 cup croutons
½ cup green onions sliced
Directions
Preheat the 5-quart stockpot over medium-high heat 350ᵒF, cook bacon until crispy. DO NOT BURN THE BACON. Remove bacon from paper towel to drain. Discard all but 2 to 3 tablespoons of bacon drippings.
 Add celery, carrots, onion, and garlic. Cook until lightly browned 5 to 7 minutes. Stir occasionally.
Add the butter to melt, add flour and stir to combine. Cook until flour is lightly browned 2 to 3 minutes, stir occasionally. Do not allow the flour to burn.
Add the Half-N-Half and stir to combine. Heat until bubbling. Reduce the heat to medium 275ᵒF. Stir in the beer and cheese. Continue heating and stirring until completely melted. Season with cayenne pepper, celery salt and/or garlic salt.
TO SERVE: Ladle soup into bowls; top with croutons, garnish with crumbled bacon and sliced green onions.