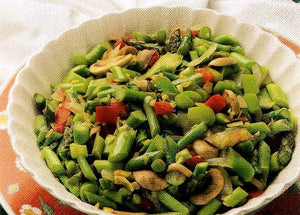 Asparagus Mushroom Sauté
Serves: 4
Preparation Time: 15 minutes
Equipment: French Chef Knife, Cutting Board, Kitchen Machine food cutter, Large Skillet
2 tablespoons chicken broth or homemade chicken stock

¼ pound (120 g) fresh mushrooms, sliced #4 blade

¼ cup red bell pepper, diced

¼ onion, julienned #2 blade

1 16 ounce (460 g) can asparagus cuts and tips drained, or 1 pound fresh asparagus

¼ cup (60 ml) dry white wine

1 teaspoon cornstarch

1 teaspoon fresh tarragon leaves, chopped

1 teaspoon fresh lemon zest, grated #1 blade

1 teaspoon fresh squeezed lemon juice
Heat chicken broth in 10-inch Chef Pan or Large Skillet over medium-high heat; add mushrooms, red pepper and onion, sauté about 2 minutes or until tender. Add asparagus and sauté 1 minute more. Combine wine and cornstarch; stir to dissolve. Add remaining ingredients stir-fry about 1 minute until sauce boils and thickens.
NUTRITIONAL BREAKDOWN PER SERVING: Calories 57; Fat Grams 1; Carbohydrate Grams 6; Protein Grams 4; Cholesterol mg 0; Sodium mg 42.
THE POINT SYSTEM: Calorie Points ½; Protein Points ½; Fat Grams 1; Sodium Points 2; Fiber Points 1; Carbohydrate Points ½; Cholesterol Points 0.