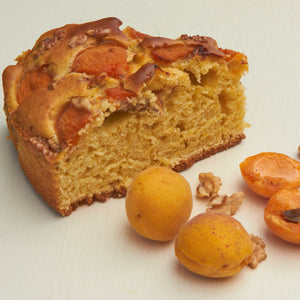 EQUIPMENT: 11-inch large sauté skillet, large mixing bowl, electric mixer, measuring cup, measuring spoons
PREPARATION TIME: 1 hour – Make 8 servings
½ stick unsalted butter
1 cup sugar in the raw or whole cane sugar
2 14-ounce cans of apricots halves, drained and juice reserved
1 8-ounce can crushed pineapple, drained and juice reserved
1 teaspoon cinnamon
½ teaspoon nutmeg
1 stick unsalted butter, softened
2 eggs
1 cup cake flour, sifted or all-purpose flour
1 ½ teaspoons baking powder
½ teaspoon baking soda
½ cup buttermilk
1 teaspoon vanilla
DIRECTIONS:
In the sauté skillet over medium-low heat 180ᵒF to 200ᵒF, melt butter, turning to coat the sides of the pan. To the skillet add sugar and ½ cup apricot juice to the butter. Simmer for about 5 minutes or until slightly thickened. Turn to coat the sides of the skillet. Remove from heat and allow to cool.
When the skillet is sufficiently cooled arrange apricot halves in a skillet; add crushed pineapple evenly over apricots, sprinkle with cinnamon and nutmeg.
In the mixing bowl, combine butter and eggs together with an electric mixer, and continue to mix well on medium speed. Alternately add flour, baking powder, baking soda, and buttermilk, and mix well. Add vanilla last. Gently pour batter over the fruit mixture. Cover the pan close the vent and bake on top of the stove over low heat 180ᵒF to 200ᵒF for 45 minutes. Cool slightly.
SERVING:
Invert the cake onto a cake plate and serve warm with vanilla Frozen Custard.