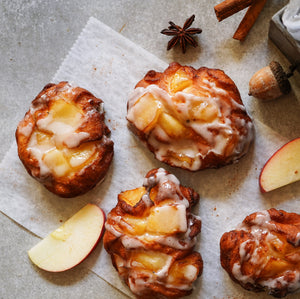 The origin of the Apple Fritters can be traced back to Europe and the Roman Empire most likely Germany. At least something good came out of the failed attempt to conquer the Germanic Society. From that point forward the Apple Fritter spread throughout the Empire.
The first written record of an Apple Fritter recipe in America was published in the 1828 classic, Mrs. Mary Randolph's "The Virginia Housewife".
Growing up in New Jersey in the 50s and early 60s we had seasonal fruits and vegetables. Unlike today apples were only available at harvest time in the fall at roadside stands. The apples not eaten fresh were canned, made into pies, and deep-fried apple fritters.
I heard from a friend that the best apple fritters ever can be found at the Johnny Appleseed Festival in Fort Wayne, Indiana in September every year. That's not the only Johnny Appleseed festival, there is one in Lisbon, Ohio, another in Sheffield, Pennsylvania, and the Apple Fritter is the Star of the Show.
Apple Fritters are deep-fried donuts filled with apples, nutmeg, cinnamon, and sugar. Can be drizzled with an easy three-ingredient glaze.
This particular recipe came from one of my Rahway, High School buddies Joe Kvarta. Enjoy!
PREPARATION: about 30 minutes
EQUIPMENT: Large mixing bowl, large skillet
½ cup all-purpose flour
¼ cup sugar
2 teaspoons baking powder
½ teaspoons salt
1 teaspoon cinnamon
½ teaspoon nutmeg
¼ cup milk
¼ cup apple juice (from cooked apples)
2 whole eggs
4 cups of Apples, 2 (large Macintosh) sliced or diced.
Olive oil or vegetable oil for frying
DIRECTIONS:  
Peel, core, and slice or dice apples. Microwave apples for about 4 minutes or for better flavor cook the apples waterless way – 8 to 10 minutes after the whistle sounds, vent closed, and turned to low heat. Reserve the juice of the apples for the batter.
In a large mixing bowl, whisk to combine flour, sugar, baking powder, salt, cinnamon, and nutmeg. Make a well in the middle of the dry ingredients and add the milk, apple juice, and eggs. Whisk the mixture until smooth. The mixture should be slightly watery for the best results. Fold in the apples.
Note from Joe: You can use Pancake Batter Mix if you like.
Heat about 1½-inches of oil in the skillet to 375ᵒF.  Drop about ¼ cup (3 or 4 tablespoons per fritter) of the batter in hot oil. Cook each side until golden brown, about 2 minutes per side. Remove to a wire rack or paper towels to drain.
Vanilla Glaze (optional)
2 cups powdered sugar.
¼ cup milk
½ teaspoon vanilla
SERVING:
Whisk together milk, powdered sugar, and vanilla. Drizzle the glaze over the top.