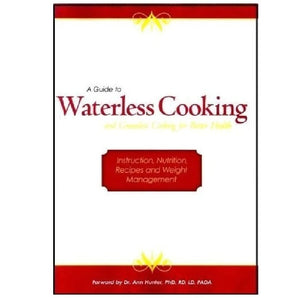 The ONLY comprehensive Waterless-Cooking Cookbook of its kind on the market today for waterless-greaseless cookware.

A Guide to Waterless-Greaseless Cooking. Basic cookware care, cooking instructions, nutrition basics, understanding food labels, and the calorie point system. International recipes with detailed instruction and nutritional breakdowns.
About the Author: Celebrity chef, Charles Knight, is a New Jersey born bestselling cookbook author and former co-host of "In the Kitchen with Chef Tell (PAX Television Network), and "Jack Can't Cook" with Jack Harris (Food Network and NBC/WFLA-TV). Chef Knight received his basic culinary training working under Chef William Christmas while still in high school. He furthered his culinary education attending (ICE) the Institute of Culinary Education NYC and earned credits in Nutritional Cuisine from the (CIA) Culinary Institute of America in Hyde Park, N.Y. He is recognized worldwide at the foremost expert on the classic methods of waterless-greaseless cooking.
By Chef Charles Knight, Janet Lee, Cheri Sparks, and David Knight (Contributors)
Forward by Ann Hunter PHD Wichita State University, Basic Cookware Care
The Vapor Seal Method of Cooking
Conversion Charts
Adapting Recipes to Healthy Waterless-Greaseless Cooking
Basic Cookware Instructions
Nutrition Basics and Reading Food Labels
Calorie Point System
Pasta Dictionary
More than 150 recipes
Paperback: 266 pages
Publisher: Book Surge Publishing (June 10, 2009)
Language: English
ISBN-10: 1439226024
ISBN-13: 978-1439226025
Product Dimensions: 10 x 7 x 0.6 inches
Shipping Weight: 1.3 pounds per book
TRADE-IN your old waterless cookware and TRADE-UP to Ultra-Tech II 9Ply Magnetic Waterless Cookware and get a brand-new set at half price.
Customer Service and Culinary Specialists available from 8am to 10pm EST 7 days a week and from 1pm to 8pm on Holidays. Text or Call 1-813-390-1144