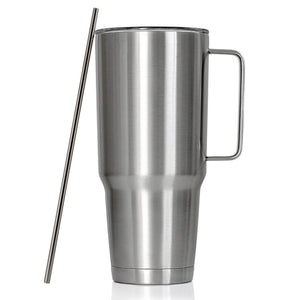 44 Ounce Double Vacuum Wall Stainless Steel Tumbler with Lid, Stainless Steel with Handle and Metal Straw, Fits in a 3.5" Wide Car Beverage Holder
Details

REJUVENATING THIRST-QUENCHING DURABILITY: This 64-ounce Double-Walled 18/8 Stainless Steel Vacuum-Insulated Tumbler is a rugged portable drinking container that keeps ice-cold beverages cold and piping-hot beverages hot all day long!
REFRESHING ENERGIZING CONVENIENCE: Featuring a stainless-steel finish, and a jam dropping 5 1/2 - cup capacity and a tight spill-preventing lid, this massive 9 1/2-inch-tall traveling beverage cup weighs 1.45 lbs. and fits in the front cup holders of most full-size cars and trucks. THE BASE FITS IN A 3 1/2" WIDE BEVERAGE HOLDER.
SATISFYING HYDRATION: Providing maximum insulation that keeps ice cubes intact for extended periods of time and radiating heat at an intensely blazing simmering, our camo tumbler keeps your favorite drinks at the perfect temperature for as long as possible.
44oz Capacity
Clear Splash Resistant Lid
Stainless Steel - 18/8 Grade
Double Wall Vacuum Insulation
Stainless Steel Handle
Dishwasher Safe
Dimensions: 9.75" Length, 4.50" Width, 5.25" Height
Weight: 1.25 Lbs.
Need help? Text or call 1-813-390-1144