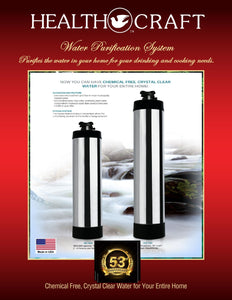 "We built our home 18 years ago. After about 10 years we had to replace a corroded water heater, dishwasher, and several plumbing fixtures. My Plumber said the corrosion was from Chlorinated tap water, and recommended a Nutri-Tech Whole-House Water Purification System. We have had it for over 8 years now, no corrosion and we have continuous purified water for drinking, cooking, bathing, laundry, and we are saving money since day one. Health Craft has provided great service." Johnny B. Lakeland, FL.
"I own rental properties in New Jersey and Staten Island. All have a Health Craft 750 Whole House Water Filter System for each building. Because of the water purifier it saves me on having to replace fixtures and appliances, especially water heaters (as a result of scaling). It saves the tenants money as well as they don't have to buy bottled water. Thanks for the great advice." J. Francisco
"We never had a concern about drinking water until our son was born with a weakened immune system. Our pediatrician explained the importance of sanitation against bacteria and warned against using bottled water. He recommended your water purification system. We have it, love it, and feel safe now." Bobby D., Clinton, NY
COMPONENT LIST
One (1) WH-750 System.
One (1) WH-500 System
HOOK-UP KIT
One (1) Care & Use Manual
Ten (10) Quick Connect Union Elbows
One (1) Quick Connect Union Connector
Four (4) Mounting Brackets
OPTIONAL
One (1) Pre-Filter Kit with Cartridges (If ordered, see Pre-Filter Component List)
HOW LONG BEFORE MEDIA NEEDS TO BE CHANGED
Presuming your water usage is average and from a microbiological safe and chemical free potable water source, your Ultra Tech Stainless Steel Whole House Water Treatment and Filtering System high performance media should not need to be replaced before the 6th year of operation for the WH-750 and 4th year for the WH-500. It is recommended that media replacement be performed by a certified plumber.
WH-750/500 MAIN TANK SPECIFICATIONS
Dimensions: 10" diameter
WH-750: Overall Height 53½" Weight 84 lbs.
WH-500: Overall Height 37½" Weight 57 lbs.
Flow Rate: 4 – 5gpm
Maximum Pressure: 120 psi
WH-500 Capacity: 500,000 gallons #WH500SS/3695
WH-750 Capacity: 750,000 gallons #WH750SS/4195
Inlet/Outlet Connections: 1 inch
No Interest Payment Plans Available
Because of our worldwide distribution, prices vary from country to country, for this reason our Whole House Water Treatment System is not sold online. Text or call for a catalog and U.S. Price List 1-813-390-1144.
The smartest investment you can make in your home is a Whole House Water Purification System from Health Craft. It will pay for itself in many ways; 1) the average person spends $1,350 a year on bottled water. $3,400 for a family of 4. 2) Save $718 a year on replacing appliances and plumbing fixtures. 3) Most important, the health benefits on not drinking, cooking and bathing in chemically treated water. You can't put a price on the health of your family.