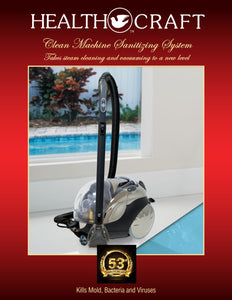 After nearly five years of research and development we are excited to introduce our new state-the-art cleaning system. The 
Ultra-Tech Clean Machine
 is the most advanced cleaning system ever developed. It is designed in the USA and made in Italy, and it is a three-in-one system that combines a highly efficient water trap vacuum, with a dry vapor steam cleaner and aromatizes as it disinfects your home or workplace while leaving behind a pleasant scent. 
Our Ultra-Tech Clean Machine is the ultimate solution to chemical-free and germ-free cleaning, eliminating toxic cleaning chemicals and bacteria-filled mops. It uses pressure and steam to dislodge dirt, grime, and bacteria, and the vacuum features remove them effectively, saving you time and energy.
xxx 
Our Clean Machine is not only highly effective but also environmentally friendly, making it a practical choice for households and businesses alike. With our Ultra-Tech Clean Machine, you can be confident that your space is cleaned thoroughly and safely. 
xxx
Say goodbye to toxic chemicals and hello to a cleaner, healthier, safer environment, and more sustainable future with the Ultra-Tech Clean Machine from Health Craft.
CustomerService@HealthCraft.com – Text or Call 1-813-390-1144
8 am to 10 pm Daily including Holidays.