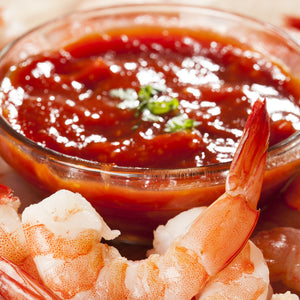 Cocktail Sauce or Seafood Sauce was made popular by British celebrity chef Fanny Cradock in 1967. Prepared with cucumbers, mayonnaise, Tabasco, lemon juice, whipped cream, sherry, Madeira, paprika, and chives is just one of the many variations. However, the American version prepared with a ketchup and horseradish base predates the British version by more the six decades.
To determine where American Cocktail Sauce originated you will want to research where the primary ingredients were in abundance prior to refrigerated train cars in 1880. Ketchup, for example, was invented by scientist and horticulturist James Mease in Philadelphia in 1812. Made from tomatoes grown in abundance in the farmlands of Southern New Jersey across the river from Philly, and Horseradish, brought to the Colonies by settlers and also grown in Southern New Jersey in the early 1800s as well.
By the mid to late 1800 (Gilded Age) the Jersey Shore had become the vacation capital of the world and many New York City cooks and chefs escaped the hot summers working in New Jersey Resort Hotels from Long Branch to Toms River and Atlantic City, and with it, they brought back to the city recipes made with locally grown ingredients. Seafood was also in abundance along the Jersey shore.
The first record of a Seafood Cocktail Sauce can be traced back to the early 1900s when it was served at Delmonico's restaurant in New York City and soon became one of the most popular condiments of American cuisine.
My rendition brings back memories of summers at Seaside Heights – Under the Boardwalk at the Beachcomber Bar & Grill and The Best COCKTAIL SAUCE You Ever Had!
EQUIPMENT: 1 Qt. Mixing bowl, measuring cup, measuring spoons
PREPARATION TIME: 5 Minutes – Makes 4 to 6 servings.
1 cup catsup
½ cup prepared horseradish
1 tablespoon Dijon mustard
1 tablespoon Worcestershire sauce
1 tablespoon Crystal hot pepper sauce
1 juice of one small lime
I like to combine the ingredients in a 1-quart Pyrex measure cup. Combine all the ingredients and mix well. Cover with plastic wrap and place in refrigerator until ready to serve.
To serve, with cooked shrimp, crab, and lobster, and raw clams and oysters.