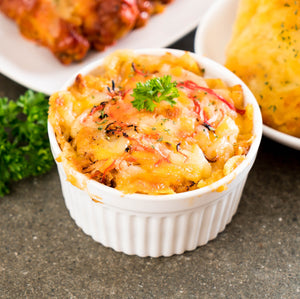 Classic Crab Imperial as Seen on The Food Network with Jack Harris & Charles Knight
It is Crab Season on Maryland's Eastern shore, and fishermen are pulling "beautiful swimmers" (blue crabs) out of Chesapeake Bay by the bushel.
Equipment: 2 QT Casserole Karahi Pan (or 6 Oyster Shells or Ramekins), ¾ QT Butter Warmer, large stainless mixing bowl, Chef's Cleaver, cutting board, small mixing bowl
Variation to TV Recipe
Ingredients
1-pound lump crabmeat, coarsely chopped
2 slices Italian bread, chopped fine
2 tablespoons fresh parsley leaves, chopped fine
½ teaspoon Old Bay Seasoning
freshly ground black pepper
Dash of Crystal Hot Sauce
3 tablespoons unsalted butter, melted.
2/3-cup mayonnaise (use light, if you like)
1 teaspoon Dijon mustard
1/3-cup Italian breadcrumbs
1 Lemon cut into 6 parts.
Preheat the oven to 400°F. Lightly coat 2 QT Casserole Karahi Pan with 1 tablespoon melted butter, or 6 Oyster Shells
Combine the crab and bread in mixing bowl with parsley, Old Bay, pepper, and hot pepper sauce. Drizzle in 1/3 of the melted butter and mix well.
Add the mayonnaise and mustard and continue to mix until thoroughly combined. (Classic Crab Imperial Béchamel Sauce is substituted for Mayonnaise)
In the small mixing bowl combine the Italian breadcrumbs and 1/3 of the melted butter.
Add the crab mixture to the 2 QT Casserole and spread evenly (mound in Oyster Shells or in Ramakins). Scatter the buttered crumbs on top.
Bake uncovered in the oven until bubbling and slightly browned, 12 to 15 minutes.
Serve hot with Lemon Wedges