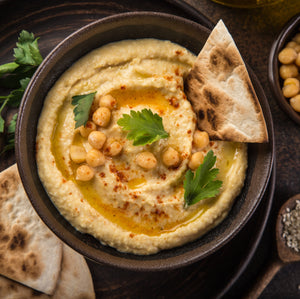 HUMMUS HOMEMADE by LeAnn Knight – Best Ever!
EQUIPMENT: 9-inch fry pan, food processor
PREPARATION: 15 minutes – makes about 1 cup 
INGREDIENTS
½ cup olive oil (reserve after cooking garlic)
8 cloves garlic whole peeled
1 15.5-ounce can chickpeas drained with 2 tablespoons liquid reserved
Juice of 1 lemon
1 teaspoon kosher salt
1 teaspoon cumin or to taste
¼ cup 4 tablespoons creamy peanut butter
1 teaspoon Crystal hot pepper sauce
2 tablespoons chickpea liquid
2 tablespoons olive oil you cooked the garlic
DIRECTIONS:
Sauté whole garlic cloves in olive oil over medium heat 275ᵒ 2 or 3 minutes until cooked and tender. Remove from heat and set aside to cool.
Drain chickpeas and reserve the liquid. To the food processor add chickpeas, cooked garlic, juice of 1 lemon, kosher sale, cumin, peanut butter, 2 chickpea liquid, 2 tablespoons of the olive oil you cooked the garlic in, and blend on low speed until creamy.
To serve, place in a serving bowl and top by drizzling olive oil you cooked the garlic in over the top. Serve with Pita chips.