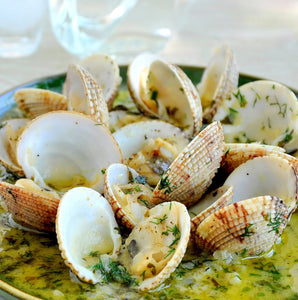 CLAMS IN WHITE WINE GARLIC SAUCE
EQUIPMENT: 13-inch Gourmet Skillet with Vented Lid
PREPARATION: 20 minutes – Serve 4
INGREDIENTS: 
1 stick unsalted butter, 8 tablespoons.
2 tablespoons olive oil (not the green stuff)
½ Spanish onion, minced
10 to 12 cloves garlic minced fine.
½ cup Chardonnay wine
1 8-ounce bottle clam juice
2 dozen fresh clams
½ cup fresh parsley, chopped
1 lemon cut into 8 wedges.
Italian bread
INSTRUCTIONS:
Preheat a 13-goumet skillet over medium heat 275ᵒF melt butter and add olive oil. Add onion and garlic and sauté until cooked. Do not brown or burn.
Deglaze the pan with the wine, add the clam juice. Bring to a simmer and reduce the heat to low 225ᵒF.
Add the clams, cover, and open the vent. Cook for 5 to 7 minutes until all the clams are open. Discard any clams that do not open.
Transfer clams and liquid to shallow serving bowls, top with fresh parsley and serve with lemon wedges and Italian bread for sopping.