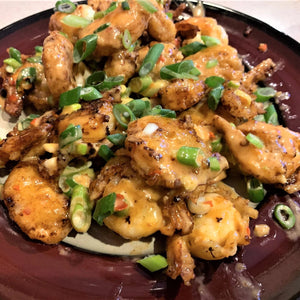 Bang Bang Shrimp is a Thai dish, but the term "bang bang" comes from a popular Chinese recipe where the chicken is tenderized by banging the meat with a stick. However, there will be no Banging the Shrimp today!
Bang Bang Shrimp's recipe is a closely guarded secret, created by Chris Park and Tim Curci at the original Bonefish Grill in St. Petersburg, Fla. "Asian influence" Thai spices.
This is LeAnn recreation of this recipe... she is an excellent cook but not really good at measuring and writing things down. She does not like to give up secrets either. It is a Sicilian thing. SO..... I did this best I could get a confession out of her. Let me know what you think.
BANG BANG SHRIMP
EQUIPMENT: medium size mixing bowl, 11-inch Sauté Skillet or Oil Core Electric Skillet, shallow bowl for dredging, serving bowl
Made 4 Servings -
20 to 24 shrimp fresh deveined and peeled or frozen
2 cups buttermilk (enough to cover the shrimp)
1 cup cornstarch
Salt and pepper as desired
1 tablespoon Garlic powder
Lard of olive oil
SAUCE
1 cup mayonnaise
¼ cup Thai sweet chili sauce
3 tablespoons Sriracha hot sauce for medium (more of less depending on how hot you like it)
2 to 3 White parts of scallions, sliced on a bias
Green scallion top, sliced
PREPARATION
In a medium size mixing bowl, marinate shrimp in Buttermilk one to two hours in the refrigerator covered (tenderizes and enhances flavor).
While the shrimp are marinating, prepare the sauce by combining mayonnaise, Thai sweet chili sauce, Sriracha hot sauce and white scallions. Mix well and set aside for flavors to combine.
Place cornstarch in a shallow bowl and season with salt, pepper, garlic powder and mix well.
Bring oil or lard to temperature in the sauté skillet or electric skillet 375ᵒF
Using the wet hand dry hand technique, one at a time, shake off excess buttermilk from shrimp place in cornstarch. Coat with your dry hand and place in hot oil. Work quickly. Cook to a golden brown 2 ½ to 3 minutes. Place on wire rack.
Place cooked shrimps in a large serving bowl add the sauce and toss, reserving about one-third the sauce for dipping. Top with green scallions and serve.