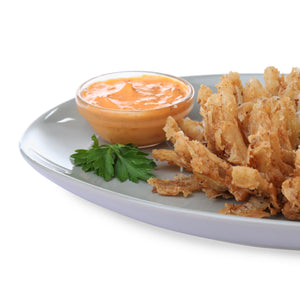 COURSE: Appetizer
EQUIPMENT: French Chef's Knife, 2-quart saucepan, 3-quart saucepan, 3-quart stainless steel mixing bowl, 2-quart stainless steel mixing bowl.
Make 4 Servings - 40 minutes
INGREDIENTS:
2 large white onion, peeled with root on
1 cup Bisquick flour
1 whole egg, well beaten.
12 to 16-ounce pure golden olive oil
¼ cup light beer
4 tablespoons mayonnaise
3 tablespoons horseradish
2 tablespoons ketchup
1 teaspoon ground red pepper or cayenne pepper
PREPARATION
Cut onions in half, then quarters, then into eights. Be careful to keep the root intact. Fan each onion slice and place on paper towel.
Put oil in a 3-quart saucepan to medium-high 375ᵒF. Note: it's best to use an induction cooker and cookware and set it to the exact temperature.
BEER BATTER: Place flour in a 3-quart mixing bowl. Add the egg and beer and mix well with a whisk. Make sure batter is thick.
SPICEY HORSERADISH DIP: In the 2-quart mixing bowl, combine mayonnaise, horseradish, ketchup, and red pepper or cayenne pepper. Mix well and set aside.
Holding the onion by the root and keeping the onion peddles in a fan, dip each onion into the batter. Drop the battered fanned onion into the hot oil and cook until golden brown. About 10 minutes. Place cooked onions on a paper towel to absorb any excess oil.