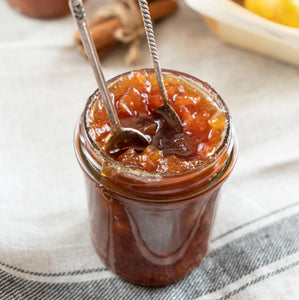 Apricot Apple Chutney is an excellent complement when serving pork, lamb, and chicken and when served on toasted French bread.
EQUIPMENT: Rotary Mandolin Food Cutter, 2-quart saucepan with cover,
INGREDIENTS:
1½ pounds green apples chopped and peeled #4 blade.
10 dried apricots chopped.
¼ cup filtered or purified water
1¼ cups brown sugar.
¼ cup raisins chopped
1 onion chopped #2 blade.
4 cloves garlic, minced.
½ cup apple cider vinegar
1 cinnamon stick
4 cloves
1 bay leaf
½ teaspoon garam masala*
1 teaspoon sea salt or kosher salt
½ teaspoon cayenne pepper
DIRECTIONS:
Peel, core, and cut apples in half and remove the stems with a paring knife and the core with a teaspoon. Using the Kitchen Machine and blade #3, place the skin side up away from the blade, chop, and peel apples. Rinse apricots with purified or filtered water and dry them, using chef's knife dice.
Bring water to a boil over medium heat 275ᵒF in a 2-quart Saucepan stir in sugar and add the remaining ingredients. Cover and open the open vent. When the whistle sounds reduce the heat to low 200ᵒF and simmer for 40 minutes. With a spoon, remove the cinnamon stick, cloves, and bay leaf.
NUTRITIONAL BREAKDOWN PER SERVING: Calories 108; Fat Grams 0; Carbohydrate Grams 27; Protein Grams 0; Cholesterol mg 0; Sodium mg 115.
THE POINT SYSTEM: Calorie Points 1 ½; Protein Points 0; Fat Grams 0; Sodium Points 5; Fiber Points 1; Carbohydrate Points 2; Cholesterol Points 0.