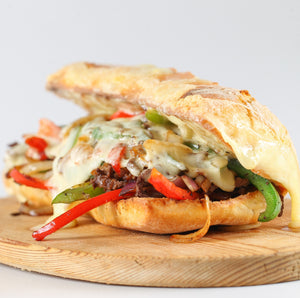 Made with thinly sliced ribeye or prime rib, caramelized onions, bell pepper, and mushrooms, topped with Cheese Whiz or melting Provolone cheese on a lightly toasted Amoroso roll or Italian bread.
Although I didn't grow up in Philadelphia, I spent a lot of time there before, during and after college. Accordingly, what makes a Philly cheesesteak authentic (from Geno's and Pat's) - traditionally speaking, cheesesteak is made with thin sliced ribeye steak and cheese, served on an Amoroso Roll (a family-owned bakery since the 1930's specializing in baked breads and rolls). In this recipe I will substitute leftover sliced thin Prime Rib which is essentially the same thing.
Onions, bell peppers and mushroom caramelized in unsalted butter.
Thinly slice Ribeye or Prime Rib sautéed separately in unsalted butter.
Toasted Amoroso rolls or Italian bread (if you don't live in or near Philly)
Cheese whiz or provolone (I prefer Cheese Whiz)
To serve, place steak on toasted toll, add a good serving of caramelized onions, peppers and mushrooms and top with Cheese Whiz. If using provolone, top with cheese and place under broiler 3 to 5 minutes.
Enjoy!