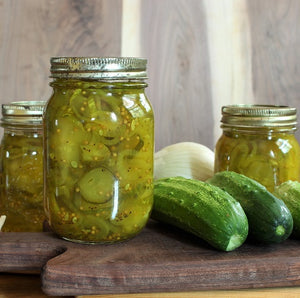 Pickles have been around for thousands of years and have been a staple in many cultures. Sweet and sour pickles and bread and butter pickles are two popular types of pickles that have a unique taste and history. Sweet and sour pickles are made with a mixture of sugar, vinegar, and spices, while bread and butter pickles are made with a mixture of sugar, vinegar, and sliced cucumbers and onions.
The history of sweet and sour pickles can be traced back to ancient Mesopotamia, where people would preserve their food in vinegar and spices. The recipe then spread to other parts of the world, including Europe and Asia. Bread and butter pickles, on the other hand, are said to have originated in the United States in the early 1900s. They were a popular snack during the Great Depression because they were cheap and easy to make.
Today, sweet and sour pickles and bread and butter pickles are enjoyed all over the world. They can be eaten as a snack, added to sandwiches, or used as a condiment. Whether you prefer sweet or savory, there is a pickle out there for everyone.
Award Winning Bread and Butter Pickle Recipe
EQUIPMENT: Rotary Food Cutter, large stainless steel mixing bowl, chef's knife, cutting board, measuring cups and spoons, steamer/colander, 3-quart saucepot, Ultra-Vac storage container or Mason jars
PREPARATION TIME: 45 minutes – chill 24 hours in the refrigerator, or 1 to 2 hours when using Ultra-Vac Food Storage System... See it HERE!
INGREDIENTS: 
1¼ pounds pickling cucumbers (4 cucumbers), waffle cut #5 cutting cone.
2 tablespoons of pickling spice.
1 teaspoon Kosher salt. (Do not use table salt Iodine will turn pickles brown)
¼ Vidalia onion, julienne #2 cutting cone
¼ red onion, julienne #2 cutting cone
2 cloves garlic sliced thin #4 cutting cone.
¾ cup white distilled vinegar
½ cup Braggs apple cider vinegar
½ cup granulated sugar
½ cup packed brown sugar
1½ teaspoons mustard seeds*
½ teaspoon celery seeds*
¼ teaspoon turmeric
1 pinch allspice*
1 pinch of ground cloves*
1-inch cinnamon stick*
½ teaspoon crushed red pepper (optional) or 2 1/2 tablespoons pickling spice
DIRECTIONS:
In the large stainless steel mixing bowl, combine the cucumbers and salt; toss well, cover and chill for about 1 hour. Place cucumbers in the steamer/colander and rinse thoroughly with filtered-purified water. DO NOT use chlorinated tap water as cucumbers WILL absorb chemicals, discolor, and alter the taste. Drain well and return cucumbers to a stainless-steel mixing bowl. Add the onions and garlic to the bowl and toss well.
In the 3-quart saucepot, combine the vinegar, sugar, mustard seeds, celery seeds, ground turmeric, allspice, cloves, cinnamon stick, and crushed red pepper (if using); stir, cover, and open the Ultra-Temp control and whistle valve. When the whistle sounds, close the vent, and turn the heat off. Let stand for 3 to 5 minutes, stir, then pour hot vinegar mixture over cucumbers, onions, and garlic; let stand at room temperature for 1 hour. Pour Bread & Butter Pickles into a large Ultra-Vac container. Cover, seal, and refrigerate for 24 hours before serving.
Note: Bread and Butter Pickles can be stored in an Ultra-Vac container in the refrigerator for 2 to 4 weeks, but seldom last only a few days at our house. Kids go crazy over them. Enjoy!