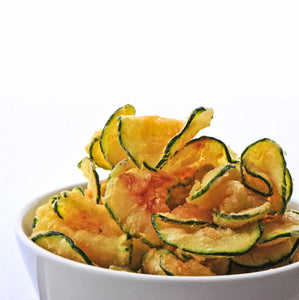 Crispy Creamy Zucchini Bites by Chef Charles Knight
EQUIPMENT: Baking Sheet or Jelly Roll Pan, Rotary Food Cutter
PREPARATION TIME: 1½ hours – Makes 45 to 60 chips
INGREDIENTS
3 medium zucchinis sliced #2 or #4 cutting cone
2 to 3 tablespoons softened butter
3 tablespoons mayonnaise
3 tablespoons sour cream
3 tablespoons buttermilk or regular milk
½ teaspoon dried dill weed
¼ teaspoon dried parsley
¼ teaspoon dried chives
¼ teaspoon onion powder
¼ teaspoon garlic powder
1½ teaspoons fresh squeezed lime juice
½ teaspoon Crystal Hot Sauce
Salt and Pepper to taste
½ cup Parmesan cheese, grated #1 cutting cone
INSTRUCTIONS
Preheat oven to 250ᵒF. Grease the cookie sheet with softened butter. Slice zucchinis and place on a paper towel to absorb excess moisture.
In a large mixing bowl, combine mayonnaise, sour cream, and milk and whisk until smooth. Add the dill, parsley, chives, onion powder, garlic powder, salt, pepper, lime juice and hot sauce. Whisk to combine.
Toss zucchinis in sauce mixture. Place a single layer on baking sheets.
Bake until crispy, about 1 hour 15 minutes. Serve hot, warm, or cooled.  
To serve, top with grated parmesan cheese.