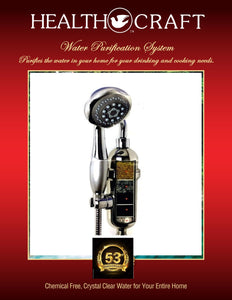 Concerned about the Water You Shower with? You should be… Showering and bathing (especially children) in tap water is equivalent to consuming as much as a half-gallon of chlorinated water each day.  
YOUR LUNGS - When you take a shower, the heat opens up your pores and your skin absorb chlorine from both the water and the steam. Some people with breathing problems find that the heated air in the shower makes their breathing problems worse.
When bathing chlorine is absorbed through the skin. When showering, inhalation and skin absorption of chloroform and chlorine by-products is greatest when gases are vaporized.
YOUR SKIN is much more than just a body cover. It breathes and absorbs much of what it comes in contact with. It is your largest and most important organ. It is your body's first line of defense against bacteria, viruses, and life-threatening contaminants. Heavily chlorinated water is suspect in skin cancer.
YOUR HAIR - Regular exposure to chlorine can cause damage to your as its byproducts strip away the natural hair and skin oils that protect your hair from drying and splitting.
Scroll Down for Video
"The General Public Needs to Know What Is in Their Tap Water Drinking and bathing in clean water is the right step toward good health.  A decade ago, people were concern about our environment becoming more and more polluted.  Today, our environment is polluted, and our tap water is a health hazard for drinking and bathing." Director of Water Product Safety
Protect your Skin, Hair, Lungs and overall health with our New SOFT 'N CLEAN Stainless Steel Shower Filter and Softener. The first and only shower system that incorporates sate of the art technologies!  #FILSCSFSN.549.385

Have questions: call or text 1-813-390-1144
Carico's Soft and Clean Shower Filter from Carico International on Vimeo.